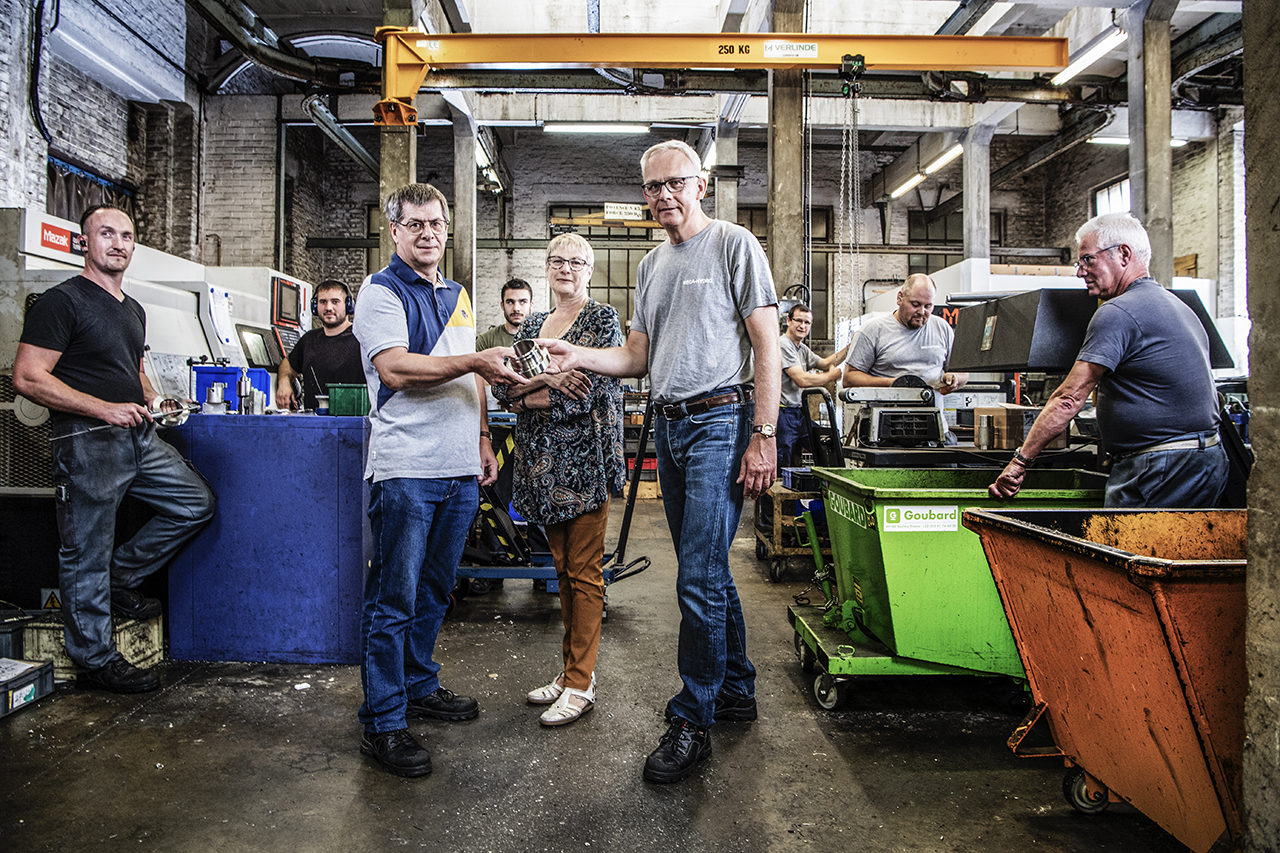 This article is from Capital magazine

March 2020: Béatrice Pommeret is an unemployed 55-year-old senior executive who wonders about her future as the first confinement begins. Find a job? Not easy at his age. Create an activity on your own? Not easy when you've managed teams for a long time. Despite the pandemic, this former general delegate of professional associations then decided to buy an SME. Since last March, she is at the head of Bobin Tradition, a pretty little Parisian carpet restoration company. "I saw even more potential by developing the international and social networks", explains the new owner, who did not hesitate to put more than 100,000 euros on the table and to go into debt to get started.
Buy a small box in the middle of Covid? Paradoxically, the dreaded bankruptcy wall has been circumvented thanks to public aid. On the other hand, this period of uncertainty led the small bosses to postpone a possible transfer of their business. "The number of companies for sale accessible to individuals has fallen by 20%, in a market where supply was already lower than demand," said Damien Noël, president of the specialist site Fusacq. This did not discourage postulants, generally executives, with solid experience in large groups and who, around 40-50 years old, dream of independence or are pushed out. "Apart from a slack last spring, the buyers have remained rather active", specifies Bernard Fraioli, president of CRA (Cédants et buyers d 'affaires), an association specializing in assistance with the takeover. Our next training sessions are also full. "
It is true that the moment is not necessarily so badly chosen. First, because there are also many cedants who, close to retirement, no longer want to reinvest in order to restart. Then, because in certain sectors, SMEs for sale have seen their profitability drop. Even if they are healthy, their valuation has therefore also logically subsided. "In addition, interest rates remain low, which lightens the weight of bank loans", specifies Thierry Lamarque, president of the specialist firm Altheo.
Advice to amateurs: before getting a good deal, the road will be long – it will rarely take less than a year and a half – and often stressful. Better to prepare for it. The first step will be to look for interesting files. It is not easy to find the nugget among the 6,000 to 8,000 VSEs and SMEs sold every year. Of course, there are useful ad databases (CRA, CCI, chamber of trades, Fusacq). But this is not always enough, sellers do not like to trumpet their projects from the rooftops. It is therefore also necessary to prospect, for a fee, firms specializing in reconciliations, but also accountants and banks.
More tedious, direct prospecting offers the advantage of casting a wide net. Many candidates use the Diane database which allows them to obtain business listings by sorting according to their size, location, financial ratios but also… the age of the captain. Finally, we will not forget the luck factor, when talking about his project on any occasion. It was while playing golf with strangers that Franck Longieras, former sales manager at Spie, came across the technical director of his SME bought last July. "And to think that I had not planned to go there that day", remembers the new boss of Sydéral, an installer of alarms and video surveillance systems in Argenteuil (95).
No illusion. It will undoubtedly be necessary to study several files before the good pick. Once the discussions have started, sometimes outside the company so as not to worry the staff, the moment quickly comes for a first estimate. And the one where the buyer will find that the seller is too greedy, especially these days. "The former owner had remained on an estimate dating from 2015, remembers Christophe Mayer, former senior executive in luxury, now at the head of Defrise, a rental of accessories for the cinema. As much to tell you that in 2020, I did not arrive at the same amount. "
A classic calculation allows to get a first credible idea. It is a question of taking the average of the profits of the last three years, restated for particular elements, and of multiplying this figure by a coefficient close to 5 or 6, a little less if the company is small or fragile, a little more if the activity is promising. The only problem: how to deal with the year 2020, during which activity fell? Impossible to integrate it into the calculation as if nothing had happened. It is also impossible not to take it into account at all. "We often do an in-between," explains Véronique Ruch, partner of the accountancy firm Extencia.
>> Are you looking to develop professionally, do you want to retrain? Capital and its partner Topformation are organizing the second edition of the CPF virtual fair on December 9 and 10. The opportunity for you to discover hundreds of fundable training courses in all fields and to interact directly with organizations! Reserve your place for free by following this link.
The important thing is to assess that the fundamentals are good for rebounding. Likewise, it will be necessary to integrate the impact of possible PGEs (loans guaranteed by the State) and of the moratoriums on the charges granted during the Covid, which made it possible to avoid many bankruptcies. "This precious support for treasuries is only temporary," recalls our specialist. This analysis will obviously have to be refined by financial, technical, commercial and social audits, in order to identify any problems to be overcome or assets to be developed.
If the parties agree, it's time to think about funding. Most buyers do not buy directly but through a holding company created for the occasion, in which they place their contribution, alongside other possible partners (friends, family, even funds if the SME is expensive). It will then go into debt and then repay the amount with the profits of the company.
This arrangement, which is also fiscally advantageous, should not however pump all the profits. "You have to keep at least 30% to develop the business," says specialist consultant Olivier Loridon. But even under these conditions, operations are often more complicated to complete today. "Buyers and banks need to be reassured," notes Damien Noël. Hence the development of financial solutions such as "earn out", a price supplement that will not be paid to the seller until later and depending on the results obtained. The transferor can also become a banker, by granting seller credit, or even by temporarily reinvesting in the holding company. A beautiful mark of confidence.
The career of Eric Dauge, 54 years old, buyer of Méca Hydro (industrial mechanics and precision machining) in Ham (80)
Mars 2020 : After thirty years of career in the automobile, this manager, who left his last employer three months before and lives in the Oise, begins a training to take over with the CRA and begins, during confinement, to consult advertisements and solicit his network.
July 2020: Advised by the Forthéa support firm since the spring, he studies ten or so transfer files in depth, with a few visits as a result. A first serious track does not succeed because of a disagreement on the valuation, considered too high compared to the situation of the company.
November 2020: Interesting targets are scarce, with owners preferring to wait for better days. Having the impression of going in circles, Eric Dauge comes to wonder, with his wife, if it would not be better to return to the salaried position and sends back CVs for that. No result.
December 2020: Stubbornly, he contacts SMEs in his region chosen on the Diane base based on precise criteria: between 1 and 5 million euros in turnover, around 10 employees and good financial health. Out of 300 letters sent, he received five responses, one of which turned out to be the correct one: Méca Hydro.
June 2021: The takeover of this SME with a turnover of 1 million euros is confirmed. He was convinced by its good resistance to the crisis and by its potential, the cedants being little inclined to the commercial revivals. The takeover takes place via an LBO (leveraged buyout) with a personal contribution of around 150,000 euros, a Bpifrance guarantee and 32,000 euros in honor loans.
Receive our latest news

Every morning, the information to remember about financial markets.