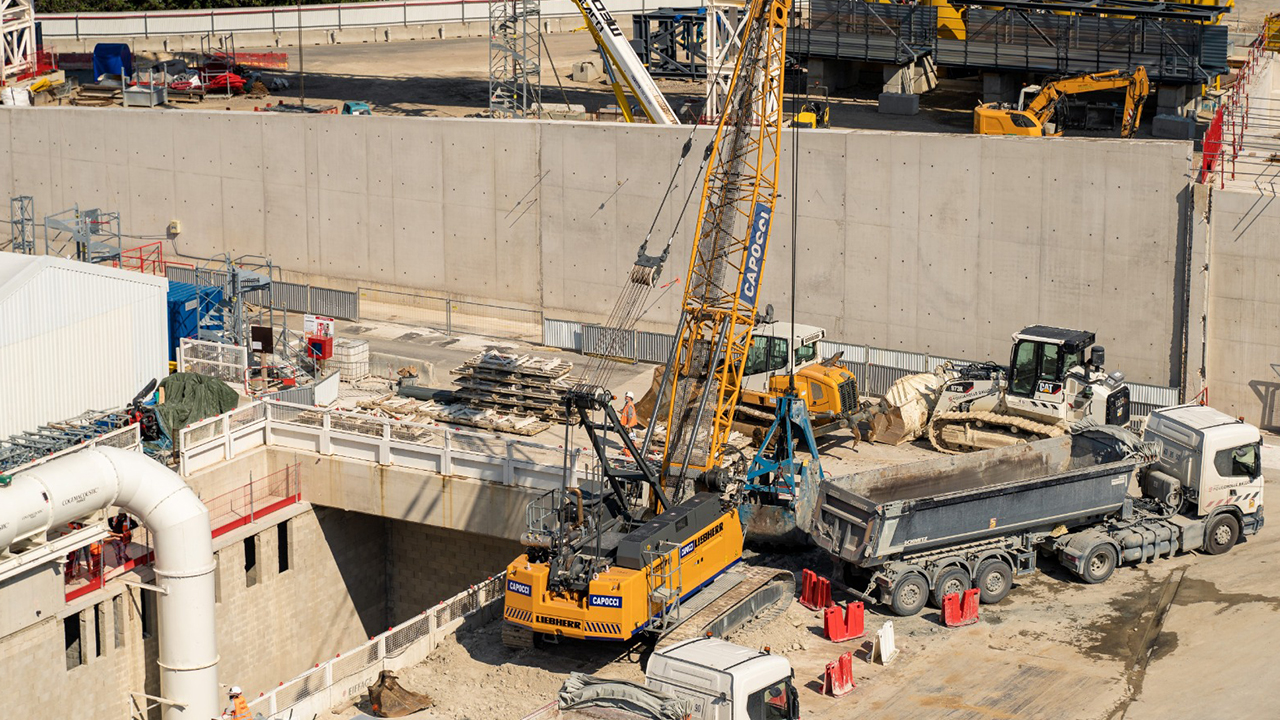 Article sponsored by CAPOCCI
Dig, move, remove soil, level terrain with uneven …
are the classic missions of a company specializing in earthworks. We know
poorly required sharp technical skills, especially on certain sites
techniques and complexes in earthworks. To empty the earth up to 60 meters from
depth on an underground station construction site, dig a giant hole the size of
50 Olympic swimming pools or fill tunnels under a future tram line,
specific skills are required. The family business CAPOCCI, specialized
in earthworks and demolition, intervenes on these difficult sites.
In-depth knowledge of soils and subsoils
With sixty years of experience and an entrepreneurial spirit that promotes
transmission of skills and the acquisition of new know-how, CAPOCCI
has forged a detailed knowledge of the soils and subsoils of the Ile-de-France region. A
key skill to intervene with expertise on complex sites. Each
nature of the soil requires specific tools and machines and their
knowledge is also a matter of security. Just like the ability to analyze
weather conditions, and depending on the horizon, to postpone the work or to
look at them in a different way. The solid competence of machine operators
to carry out this work in accordance with the rules of the art and safety is also
essential. Again, training is the key.
Expertise on complex earthmoving and demolition subjects
The company CAPOCCI sets up, as part of a CSR policy (responsibility
corporate social responsibility), regular training of its employees. " Our
greatest value is our human heritage. We really care about our mind
family business, which allows skills to be passed down through the generations
», Explains Asmaa Senhadji, the operational director of this Ile-de-France company.
created 60 years ago by the grandfather of the current leader. "We have, in our
workforce, employees who have worked with all three generations! », Continues the
leader. Expertise on these complex earthmoving and demolition subjects has
thus could be capitalized, transmitted and reinforced.
In-depth knowledge of the management of polluted soils
CAPOCCI has thus developed another essential expertise in the fields of
earthworks and demolition, namely the management of polluted soil and waste.
On complex sites, land management and its traceability is a dimension
fundamental, liable to give rise to criminal liability.
In this momentum, the company has also undertaken to diversify its activities through the
VRD and material recycling.
When they are extracted, the land, depending on its degree of pollution, is
sent to different landfills. Numerous cycle management analyzes
are necessary, in order to determine the pollution class of the earth and thus
drive to the right place. CAPOCCI specializes in complex projects in
earthmoving and demolition, currently has the largest service
independent of polluted sites and soils, with seven engineers including three doctors and more
six technicians.
Grand Paris Express construction sites
This strong expertise in demolition and earthworks allows it to intervene on
giant ultra-technical projects, alongside major players such as Eiffage or Vinci.
As part of the Grand Paris Express metro project, CAPOCCI is thus present
on almost all lines under construction (14, 15, 16, 17 and 18). It is to her that
we owe the complete deconstruction of 4 km of urban motorway and seven bridges in
as part of the extension of the T1 tramway in Ile-de-France. No less than 100,000 m3
of land have been moved! The company carries out between 50 and 60 projects per year, among
which, "punch" operations carried out in a short period of time,
like building a bridge over an SNCF track in 48 hours
Tel : +33 1 43 10 21 01
Receive our latest news

Every morning, the information to remember about financial markets.